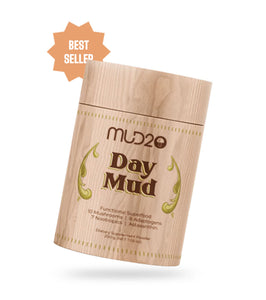 HAPPINESS GUARANTEE
No Jitters,
Just Brain Power.
There's a better way to be focused and energized than coffee or chemicals. Day Mud functional superfood powder is made with all natural ingredients that are proven to:
Embrace and control stress levels
Gain focus & enhance clarity
Increase energy without any jitters
Grab it today
Get your daily dose of ancient ayurvedic ingredients in each serving.

Unlike most mushroom or adaptogen drinks…this one actually TASTES GOOD!
Unlock the Secret to Deliciousness with
These Key Ingredients
Why Try Day Mud Today?
SUGAR-FREE - Day Mud functional superfood powder is sugar-free, making it perfect for those on a ketogenic or low-sugar diet.
VIBRANT ENERGY AND PEAK PERFORMANCE – The superfood powder provides good health by nourishing you from head to toe with all the nutrients.
EARTH FRIENDLY - Our packaging is made of eco-friendly bamboo and glass. It's better for the environment, and it's reusable!
CAFFEINE-FREE - Our mushroom powder is carefully crafted without any caffeine, ensuring a natural and soothing experience.
PRESERVATIVE-FREE - Immerse yourself in the unadulterated goodness of our mushroom powder, free from artificial preservatives, for an authentic and wholesome experience.
Grab it today
TAKE YOUR PICK
DAY MUD COLLECTION
See what the press is saying about our product
In the News